Developing a Marketing Strategy
Key Elements in Creating a Marketing Strategy
Developing a marketing strategy for new business in such a competitive environment must be based on understanding the project and the company's situation regarding the internal and external environments. The marketing strategy is about managing from the outside to the inside. Too often, even the most prominent companies fail to do proper research before launch and experience negative consequences as a result.  In this market, it is critical to make the most of the product's launch and ensure the name, search engine optimization (SEO), features, pricing, messaging, and so forth are on target. With this research, you will be seeking to confirm your beliefs about the marketing opportunity for your idea. This detailed analysis includes market analysis, competitive analysis, and organizational analysis and will provide the background and foundation for the strategic direction that covers these and several other vital areas.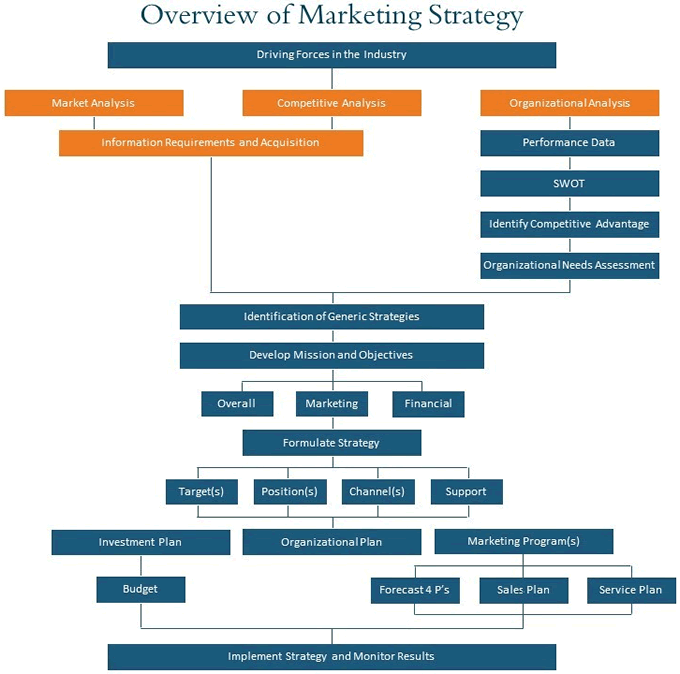 The Market Analysis will help you determine the attractiveness of the market and understand evolving opportunities and threats. The following dimensions are included in a market analysis: market size (current and future), market growth rate, profitability, industry cost structure, distribution channels, market trends, and critical success factors.
The Competitive Analysis will help you determine which competitors to compete with, how competitors might react to your actions, how to influence competitor behavior to your advantage, and what their strategies and planned activities are. The analysis will focus on what drives the competitor, what they are doing now, and what they can do concerning their objectives, assumptions, strategy, and capabilities.
The Organizational Analysis will be conducted using a SWOT analysis to evaluate the strengths, weaknesses, opportunities, and threats involved in the project. It will help you determine the degree to which the internal environment of the project matches with the external environment and find your competitive advantage.
The Information Requirements and Acquisition research and analysis will help you determine the features necessary for marketing and user adoption based on personas. This research will focus on the development of a list of potential consumer problems to be solved.
One of your primary goals in conducting this research is to set focus areas, which are the discipline in your marketing plan. You want to establish a clear definition for the type of customers you want early on. Your primary focus will be on your priority geography. However, it is also wise to include a global perspective in your research with the inherently international nature of the world today.
The majority of this research can be conducted online from trade associations, media organizations, chambers of commerce, and other business groups. In addition, internal focus groups or roundtables can also be a valuable form of research.
The purpose of this research is to:
Describe the market, the characteristics, and the size of each market segment; review key market trends.
Research customers' value, such as product features, quality, service, and image.
Compare the distribution channels for reaching customers.
Profile your competitors and what they are offering.
Identify other key factors influencing the business environment; carry out a SWOT analysis of your competitive position (SWOT: strengths, weaknesses, opportunities, threats).
Assess the profitability and sales potential of different customers and market segments.
Decide who to target among potential customers.
Decide how you will price the product or service.
Decide how you will distribute and sell, including delivering customer service.
Plan how you will promote your product and service and how you will keep in touch with customers.
Identify customers' purchasing cycles to timetable marketing activities.
Confirm the implications of your marketing plans for the rest of the business: development and training requirements, for instance.
Create a basis for projecting realistic sales forecasts and budgets.
In summary, conducting this market research is essential for providing a foundation for the marketing strategy and plan and shaping it. Ultimately, these efforts will contribute to creating a marketing plan that minimizes risks and optimizes your ability to achieve the project's goals.
Share This, Choose Your Platform!