Responsive Website Designs Proven to Increase Leads & Sales
Your customers are searching for your services and products from their smartphones, laptops, and tablets. Meaning your site is accessed with countless various devices, screen sizes, and resolutions each day. Will they discover you or your competitors? A responsive website design can make all the difference.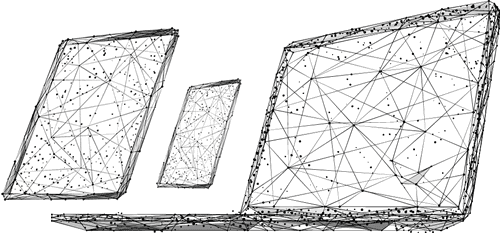 Managing different code bases for other devices and resolutions is not an efficient solution. Responsive web design provides solutions by making websites and applications smart enough to resize and adapt content based on the device's screen size.
This increases the development speed, makes the project manageable, and increases usability.
Creative Hive Labs offers responsive website design and development services that form the way people experience brands. Our mobile responsive web design services combine clear visual elements with intuitive user interfaces to interest users and drive outcomes. We leverage cutting-edge design techniques and technical expertise to establish the most effective online presence for your company. Every responsive web design we build is mobile-friendly, easy to maintain, search engine optimized, and secure.
With our responsive web design services, you get an attractive and responsive site that generates traffic, leads, and sales.
The Benefits Of Going Responsive
We help you grow your customer base with responsive web designs that function flawlessly across various devices with added benefits.
Unified experience across all the devices
Cost-effective and time savvy
Increase in organic website traffic
Reduction in bounce rates
Improved visibility in search engines
Enhanced customer retention
Boost in conversion rate
Better user engagement
Increase in sales and revenue
More mobile traffic
Lower maintenance needs
Faster web page loading
Improved online browsing
Better brand awareness
Stand out among competitors
Consolidated analytics and reporting
No multiple URLs
The Responsive Web Design Services We Offer
Let's make your website as future-proof as possible, so you're ready for the new devices that may come to the market through:
Responsive Web Enablement Of Legacy Websites
Customized Responsive Web Portal Solutions
Responsive E-Commerce Website, Forums, And Blogs
Designing Responsive Website Layouts
Responsive Website Development
Customized Web Design & Development
WordPress Responsive Website Development
Extensive Testing Services
What is a Responsive Web Design?
Responsive web design is a website framework that adjusts, hides, shrinks, and moves the content on your website depending on what device your visitor is viewing on (a desktop, smartphone, tablet, or laptop). Ultimately, a responsive website makes sure your site is easily observed on any device and maximizes your visitor's user experience.
Your customers demand various things from content on different devices, which needs to be accounted for in your responsive website design. This requires understanding your users and revisiting your website's information architecture. This isn't impossible, but it does entail strategy and preparation—and Creative Services @QAT Global can help.
Responsive web design builds on the latest JavaScript, HTML5, and CSS frameworks, offering features such as media queries that recognize a browser resolution and CSS scripts that modify elements according to the layout for a particular device. In responsive web design, dimensions are given in percentages so that the design becomes fluid and adjusts itself based on the browser window size.
Why is Responsive Website Design Important?
Your company wants to invest in a responsive website design for a few reasons, including:
Get a Stunning Site with our Responsive Website Design Services
Whether you're looking to upgrade your website to a brand-new responsive design or transfer your existing site to a responsive design, Creative Services @QAT Global offers the experience and resources needed.
With our professional design and development team, we're the favored selection of small-to-midsized businesses looking to launch a responsive site.
Use our responsive website design services to make your site friendly across every device. A responsive design allows your business to reach everyone in your target market, from smartphones to tablets to laptops.
Intuitive User Experiences and User Interfaces (UX/UI) Designed to Delight
We develop engaging, user-driven, and media-rich user interfaces. We design user experiences that interest your audience through intuitive navigation and calls-to-action tailored to their interests.
Our user experience strategy starts with an in-depth discovery to understand your business and define your audience. We help solve complicated problems and leverage the most advanced user interface design tactics to engineer seamless and straightforward solutions for the end-user.
We create every site using a responsive web design framework that seamlessly sizes from mobile to tablet to desktop, creating unforgettable user experiences on any device. By defining breakpoints for each device, we individualize and control elements the user experiences and sees specific to each interaction and environment. From navigation menus to media content, our responsive web design services consider every component of a quality site.
Responsive Web Design from Creative Hive Labs
While there are many advantages to responsive websites, you can't just throw your website in a responsive-friendly framework. Creative Hive Labs specializes in developing responsive websites and landing pages that are beautiful to look at and rank well in search results and help achieve your business goals: increased traffic, leads, and sales.
The company has a team of seasoned professionals who develop engaging, responsive website designs leveraging CSS media queries. Following the best-in-class design practices, the website delivers an outstanding UI and UX on every screen size. The team ensures that the website responds to the changing device demands with high scalability and adjusts to variations due to its responsive nature. Whether you want to design a new website from scratch or upgrade a legacy website, we can construct an online presence that helps you succeed in the modern age and gain more customers.
Head over to our website design portfolio to view some of the responsive websites we've built!
What do Our Responsive Web Designing Services Include?
With our responsive web designing services, your business receives:
Website launch
Responsive website
Dedicated project manager
Website testing
Experienced design and development team
Our responsive web design services can also include additional benefits, such as:
New website design
SEO
Professional copywriting
Ecommerce functionality
Content management system (CMS)
And more!
You can learn more about customizing our responsive web development services by contacting us online.
How We Design Responsive Websites and Apps with WordPress
As a responsive website designing company, we deliver websites and apps that adapt to any device or screen size using WordPress, providing an enjoyable experience for your viewers. We combine responsive images, flexible grids, media queries, and readable content to provide you with flawless designs that enhance conversions and encourage the right actions at the right time.