SEO represents an umbrella term for many smaller strategies that work together to improve your Google ranking (or rankings on another search engine) to create an effective conversion and revenue-generating machine — your website.
You're likely here because of at least one of the following reasons:
You are starting a new website and wish to ramp up business quickly.
Your volume of incoming leads and calls has declined suddenly.
Your website isn't being found online.
Your website traffic has reduced recently, and you don't know why.
If you identify with one or more of these pain points, you've found the help you're looking for in an SEO company with Creative Hive Labs. By partnering with an SEO provider, you have an entire team of experts working toward your digital success. So whatever your goal is—maximizing sales, increasing brand awareness, driving traffic, generating leads—we've got you covered. You could say our SEO strategies are optimized for success and we've got you covered with a full range of services.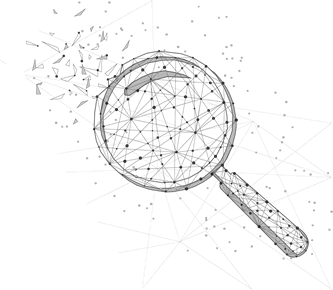 Achieving Better Rankings in the Search Results
Search engine optimization (SEO) should be your first and last thought to achieve the greatest return on investment from your website. 93% of B2B decision-makers start their buyer journey with a search engine query. An estimated 63,000 search queries are being made every second on Google (which translates to 5.6 billion searches per day and approximately 2 trillion global searches per year); you can't afford to ignore SEO. Plus, organic search engine optimization is the primary way to obtain visitors for minimal cost. Some of the most attractive and interactive websites go unnoticed because they didn't prioritize SEO, leaving them lost among thousands of competitors in the deep pages of the search engine results. Search engine optimization (SEO) from Creative Hive Labs can give your website the organic search engine ranking boost it needs so that you can connect with a vastly larger audience.
SEO is the process of appeasing the underlying search engine algorithms, monitoring, and analyzing your website activity to make modifications to target the keywords and phrases that your identified market is searching, scoring you a higher ranking on results pages. This practice optimizes your website for maximum search engine visibility, despite the competition.
To address different types of businesses and their unique needs, Creative Hive Labs offers a menu of search engine optimization services so you can find the perfect combination for you.
Types of Search Engine Optimization (SEO)
Several SEO strategies may be essential to implement to help your website rank well within search engines like Google and BING, such as technical website optimization, on-page SEO, off-page SEO, focusing on organic SEO and/or local SEO services, reputation management, and search engine marketing.
Search Engine Optimization Consulting Services
SEO Site Assessments
SEO Site Assessments are designed to give clients an in-depth critique of their website, explicitly identifying areas where improvements should and must be made. You will quickly learn what the search engines consider necessary when ranking websites and where organic search engine optimization improvements are needed from the Site Assessment. The report includes a prioritized list of site issues and recommendations to address each. We will also have any problems or opportunities we discover where a much higher level of analysis would be helpful; some are game-changers. This report takes approximately seven weeks to research, write, and produce, with a suitable time to discuss the information and suggestions.
SEO Research and Market Analysis
We offer unsurpassed expertise in creating effective SEO campaigns based on a foundation of solid research and analysis. Our SEO consultants take the time to learn about your business, industry, competition, and the search phrases and keywords that will draw visitors to your site.
We employ various tools and tap into decades of experience to understand what your business is up against and see the value of keywords so we can determine how to beat the competition. Factors such as search volume cost per click (CPC) and the approximate number of times a keyword is searched monthly taken from historical PPC bidding give clues as to the monetary value of bringing a single user to your site through a keyword.
Deciding on keywords shapes the group of pages you create, optimize, and maintain. For each page, we select both a primary keyword and a list of secondary keywords that help flesh out your page's topic. This is important because when Google evaluates your website's page, it looks for keywords that relate to other keywords as a clue as to how valuable your page is.
We also help you set realistic expectations about your keywords. Some keywords are nearly impossible to rank for; these tend to be generic terms that return lists and reviews primarily. Rather than asking what you want to rank for, we help you determine what words you should rank for.
SEO Strategy and Planning
Each SEO strategy is individualized to your unique needs and objectives, the digital landscape's state, and what your competition is doing. Based on our extensive research and market analysis findings, we devise a plan of ethical on-site and off-site search engine optimization strategies. No two businesses are the same, which is why every SEO strategy created by Creative Hive Labs is completely customized to deliver results.
SEO Training Services For businesses that want to manage all or part of their SEO in-house, we offer an SEO course that is available in our classroom or on-site at client locations. The content covers beginner through advanced SEO content and is appropriate for business managers, marketing staff, and web designers.
Search engine optimization is a process that involves optimizing your website's content, architecture, metadata, and other elements to improve website rankings in search engines such as Google, Bing, and Yahoo. SEO improves website traffic by being listed on search engines for relevant keywords to your website. It's a long-term strategy that requires constant refining to respond effectively to search engine algorithm updates.
Our WordPress SEO Essentials service is an excellent fit for WordPress websites that depend on and/or need to grow organic search traffic. We'll ensure your website follows SEO best practices, is crawlable and indexable by search engines, and set up fundamental tools for SEO success.
This package covers all of the SEO basics designed to lay an SEO foundation for your website. Contact us to learn more about this service or get started today!
SEO success recommendations
URLs review and recommendations
Speed and performance optimization
SEO plugin installation and setup
Organization Schema structured data
Robots.txt creation and optimization
Image optimization
Bing Webmaster Tools installation and setup
Google Analytics installation and setup
Google Search Console installation and setup
Google Tag Manager installation and setup
XML sitemap setup and submission to search engines
Did you know?
How Searches and Search Engines Work
Most internet users begin their session by searching for something they need. That need can be for things like:
Educational information: like how to create complex formulas in Excel, how to help a child with an algebra problem, or how to solve a coding problem
Locating a service: like finding a local doctor, dentist, software developer, restaurant, plumber, or a contractor
Finding entertainment: like movie times, online games, social networks, or streaming services
Physical and digital goods: like clothing, equipment, automobiles, groceries, books, art, music, or movies
All search engines sends out crawlers to gather all the information and content from the internet to build an index. When a user query comes through, the search engine's algorithm sifts through that index to provide the most critical and relevant information in the search results, commonly known as the search engine rankings.
This is where SEO comes in. Search engine optimization allows us to help the search engines connect to relevant keywords, uncover what's on your website, and understand the value your business offers. It's the basis that drives organic traffic to your website and increases every aspect of your digital marketing strategy.
But major search engines are continually evolving their algorithms and strategies to meet growing user demands. That's why it's crucial to maintain a sustainable optimization strategy that is continuously working for you and your business.
Keyword Cannibalism
Keyword cannibalism explains the situation where your site has multiple pages that target the same keyword. When multiple pages target a keyword, it creates confusion for the search engines, and more importantly, it makes it difficult for visitors. A solid SEO strategy is needed to manage your keyword architecture, and an SEO assessment can reveal your keyword cannibalism issues.
Content Quality
One of the most critical steps to enhancing your site's ranking in Google search results is to ensure that it contains loads of valuable information that includes relevant keywords used appropriately, indicating your content's subject matter. However, some webmasters attempt to promote their pages' ranking and attract visitors by generating pages with many words but no authentic content. Google will take action against domains that try to rank more highly by just showing scraped or other cookie-cutter pages that add substantial value to users. Doing SEO right starts with a strong content strategy.
Title Tag and Meta Description
A web page's title tag and meta description are crucial to SEO rankings for two reasons. First, both should contain your primary keyword(s) to help Google understand the semantic meaning of your page. Rather than keyword stuffing (old-school SEO), use a variation of your keywords. It is best to use word variations, synonyms and change the order of words within a keyword phrase. Our team is here to help you optimize title tags and meta descriptions to improve Google search queries ranking and improve organic traffic.
Code Efficiency
An essential factor for website optimization is the efficiency of the code with which the website is developed. Bloated, inefficient code can slow down a website's load time and dilute code-to-text (on-page content). When we optimize on-page content, the optimization is better received by Google when the website code is minimized. Google quickly understands the semantic meaning of a page when there is less code. This helps to improve rankings.