Designing for Performance
Great design is fundamental for executing on your brand. Design is content's partner in driving performance on websites, advertisements, collateral, promotional items, social media, packaging, and more.
Our experienced team of graphic designers specializes in creating digital images and experiences that catch the attention of target companies and individuals. They create these for your brand through the thoughtful orchestration of color, typography, photography, illustrations, lightning, and even video. Generating attention turns your goals into reality. They also constantly work to improve their skills by keeping pace with world trends and design innovations so the visual execution of your brand style is always current.
The Creative Hive Labs team works in collaboration with your team to ensure they are delivering on your vision effectively.
Logo Design
Logo design can be the catalyst for an excellent company or product launch. It is the framework of visual storytelling. Producing an innovative good or service is a start. However, logo design is a huge reflection of a company and lays the groundwork for a brand to thrive in the marketplace.
Your logo is your organization's first impression. A product or company brand logo is usually the first piece of graphics a consumer will see. The quality of your graphics serves as the first introduction for many. It will dictate whether your brand is worth delving into. People you want to connect with will make broad judgments about the quality of your organization based solely on your logo. On the Web, logos play a critical role and often act as the primary graphic heading or the visual center of an entire website design.
Does your current logo accurately express the quality of your brand and organization? Is your organization making the best possible first impression? Perfection does not come easy, but we make sure that we bring out the best in your logo. The design process at Creative Hive Labs is intentional and thoughtful. Whether you want a new logo design or want to re-brand your organization, you need a logo that professionally and authentically represents who you are. Our designers ensure that your brand's identity shines through your logo, making it a perfect symbol representing your company. Whether you are a new brand looking to establish its market or an existing one, we ensure your individuality and uniqueness are celebrated in your business logo. We have created a strategic approach that analyzes your business from all angles, then extends your personality into every aspect of your brand. Our experience, creativity, and honest passion for what we do enable us to design the best logo possible for your brand. And it all begins with getting to know you.
What You Can Expect from Creative Hive Labs
As we begin the logo and brand design process, there are a few elements that you can expect that come to mind: intention, research, strategy, and trust. Your objectives and goals come first, and we become more than just a branding agency, but your partner and extension of your team. Your logo project is unique from every other project and requires a thoughtful approach, trusting relationship, and unique strategy. Our customized process assists us in understanding your organization, create an engaging partnership, and position your brand for the future.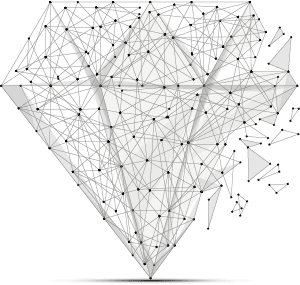 During our logo discovery and research process, learning everything about your company is a priority. We immerse ourselves in your business to gather insights from all perspectives that interact with your brand. Be it customers, employees, prospects, or otherwise, our team is committed to uncovering perceptions and wisdom so we may create a logo and brand that not only looks impressive but resonates with your audience. We will dive into everything from company history, competition, target audiences and focus on what makes you different and unique from your competition. We will use all of this information as the driving force behind our creativity to deliver logo concepts that convey the essence of your brand.
The logo design process starts with brainstorming and sketching several logo iterations. As we narrow in on logo concepts that accurately capture your brand, we focus on font and color treatments, along with brand architecture, to see how your logo will look on various mediums and channels. This is where things start to come to life.
We will meet to review the top logo design concepts with you. This meeting also includes looking at your logo's appearance in various use cases to put things into context. Common use cases include mockups for stationery, collateral, t-shirts, print ads, social media templates, or other places where you'd like to see your new logo. We present all of these options and ideas for your consideration, along with the rationale of reason. It's a collaborative approach where we discuss thoughts, reactions, and feedback to adjust the logo options to meet your needs.
We finalize any aspects of the logo during this phase based on any feedback gathered during the presentation. Once we complete the logo concepts, we develop a style guide that lists everything you need to know about your new logo and brand and prep the final graphic files. Once the style guide is complete, it's time to start implementing your new logo and brand.
Logo Design Styles
With typography-based logo design, designers rely on words to convey messages, paying particular attention to visual appeal. Graphics can also be single-letter logos, hence memorable due to their simplicity. On the other hand, signs are powerful and efficient communication tools that transfer information, mood, and emotions. Today, logo design is a form of art in its own right; hence your logo should display your business in its best light. Your logo embodies your business, but it cannot represent all the activities or services you offer. Even if it tried, it would result in elements of congestion and confusion. That is why you should always consult a professional graphic designer to learn how you can incorporate more components into a single solution that is simple, effective, and sophisticated, all at the same time.
For this reason, our experienced team of graphic designers specializing in creating digital images of companies or individuals pays special attention to turning your dreams into reality and improving their skills by keeping pace with world trends and design innovations.
Logo design consists of typography (letters) and signs, illustrations, drawings, and anything in between. Graphic designers often use a combination of symbols and text or letters to transmit the message from clients to their target audience, establishing a balance between the two.
It may seem counterintuitive, but the simpler the logo design, the more memorable it will be. Approaching logo design from a minimalist standpoint can be highly effective if it aligns with the brand it represents. Implementing a solid visual brand identity and brand strategy is vital to your company's long-term success.