Developing Pitch Decks that Close Deals
A Pitch Deck is not only a slide show with fancy visuals but also a story about your startup with powerful content. A compelling pitch deck is essential for presenting your startup to your board or potential investors. At Creative Hive Labs, we specialize in developing winning presentations that showcase the full potential of your business.
We create pitch decks that get decisions made. It takes strategic vision, financing, and a viable plan of action to succeed. Our expert consultants at Creative Hive Labs develop comprehensive strategies that convince others to believe in your business idea.
Why Outsource Your Pitch Deck Development
Need to Develop Impactful Pitch Decks?
Pitch decks are meant to persuade and engage. You need to tell your story in a way that potential investors, customers, partners, and co-founders are excited about.
Lacking In-house Bandwidth & Expertise?
Developing a great pitch deck takes time, skill, and creativity.
Need to Get Capital Commitments Faster?
Have a business idea and want to get to market quickly. Venture capitalists & decision-makers hear countless pitches every year—will your pitch stand out?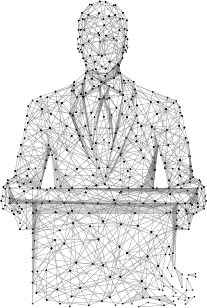 Services Tailored to Your Needs, Audience, and Niche
Research
Startup founders often make the mistake of ignoring market research. Conducting research can seem time-consuming and expensive. But having a professional review of your target market in depth is worth the investment. Without research, you have no way of knowing whether your product or service will resonate with customers in the same way that you think it will. The research will provide you with all the data points you need to create a strong presentation and apply these insights to your pitch. This will reassure your audience that what you have to say is valuable and worth listening to.
We start with doing the necessary high-level research you need to create your pitch deck. This research will also provide a starting point for your business plan. Creative Hive Labs has the expertise to conduct comprehensive research to fully understand your audience and market. Given this knowledge, we will be able to craft a compelling and convincing pitch that has a high chance of getting funding or the go-ahead from investors. We can also review your existing research findings, presentation structure, and content and provide feedback on what to correct or improve based on your business model.
Content
Much like design, pitch content is tough- you want to be able to clearly and concisely state the purpose of your company while trying to convince a board that it's worth it. Our team is skilled in creating and improving the content of your pitch deck as well as creating content from scratch. We cover a wide range of topics — from insights on a company's customer, competitor and channel landscape to their impressive team and track record of success. We use your data to create content that resonates with investors.
When hiring our team, you can be sure that your deck will contain relevant information that tells your unique story backed with evidence and data. We'll use messaging to engage your audience's emotional aspects, and a tone of voice that's right for your audience. Our Creative Services team will deliver the right solution while helping you keep the audience's attention up until the final slide.
Design
You want your board or potential investors to understand and love your idea immediately. For this, your pitch deck design should be enticing, bring your target audience into your story, and give you an edge over competitors.
This is precisely what our pitch deck designers can help you with. From a clean, uniform design with simple visuals perfect for any occasion to a creative pitch deck tailored to your needs with custom illustrations and unique content arrangements, our experts will create an original, fully custom pitch deck or refresh your existing deck following your requirements.
At Creative Hive Labs, all pitch decks are created in PowerPoint and delivered in the editable format so you can introduce changes whenever you need them.
Why Creative Hive Labs
Whether you are launching a new venture, a startup looking to scale or raise capital, or an established business looking to expand – your pitch deck design and story can make or break your opportunity. When working alone, it can take weeks or months to refine your pitch to a high standard. Let us do the heavy lifting so you can focus on what you're best at.
We Get the Details
• Work with our experienced team
• Tell us your vision, ideas, and goals
• Sit back and relax—we got this
We Nail the Design
• Information is consolidated and refined
• Slides are designed to enhance your brand
• We create a clear journey for your audience
We Deliver on Time
• Receive a high-quality presentation
• Have time to practice and rehearse
• Knock it out of the park.
The Competition for Attention is Huge
How It Works Work with us and feel confident when presenting your startup idea to your board or potential investors.
At Creative Hive Labs, our experts know what it takes to create a solid presentation that conveys the ideal message in the right way. Our pitch decks are developed using our proprietary Startup & Growth Workbook. This workbook leads startup teams through all of the necessary considerations and numbers needed to create the pitch deck and forms a basis for a business plan.
Custom Pitch Deck Designed for Your Success
We'll help craft your story based on your company, value proposition, and goals. What's included:
Market Adoption/Go-To-Market
Benefits of Our Pitch Deck Services
At Creative Hive Labs, our aim is to take your presentation design pressure away. We are committed to providing clients with high-quality and effective pitch deck design options and believe in going the extra mile to ensure that each client is satisfied with our work.
We have the experience to deliver decks that get boards and investors interested and get the needed funds to move your business forward. If you'd like to establish a real connection with your audience and give a presentation that will make a lasting impression, teaming up with us is the right choice.
We make creating a pitch deck simple
Collaboration is easy with our Design Portal
All of your services, forms, documents, and support in one convenient portal.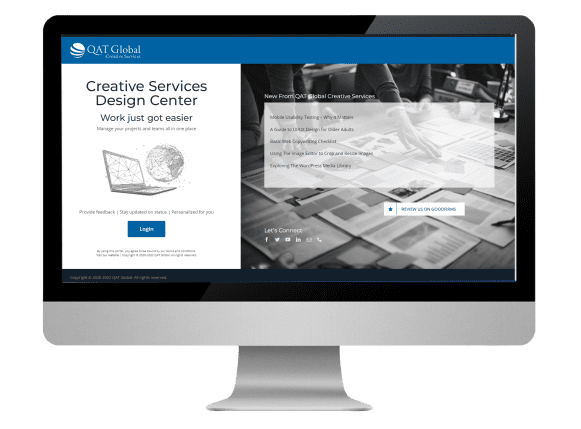 Business Model Pitch Decks That Close Deals
Engage Audience
Well-crafted slides have real emotional impact. They will connect with your audience, hold their attention, & ensure they stay engaged.
Our Vision
Help you succeed – We understand that for you, a pitch deck isn't just a presentation – it's your future, your company, your career.
Our Mission
QAT Global enhances our client's businesses through development of high-quality, visually appealing and unforgettable pitch decks.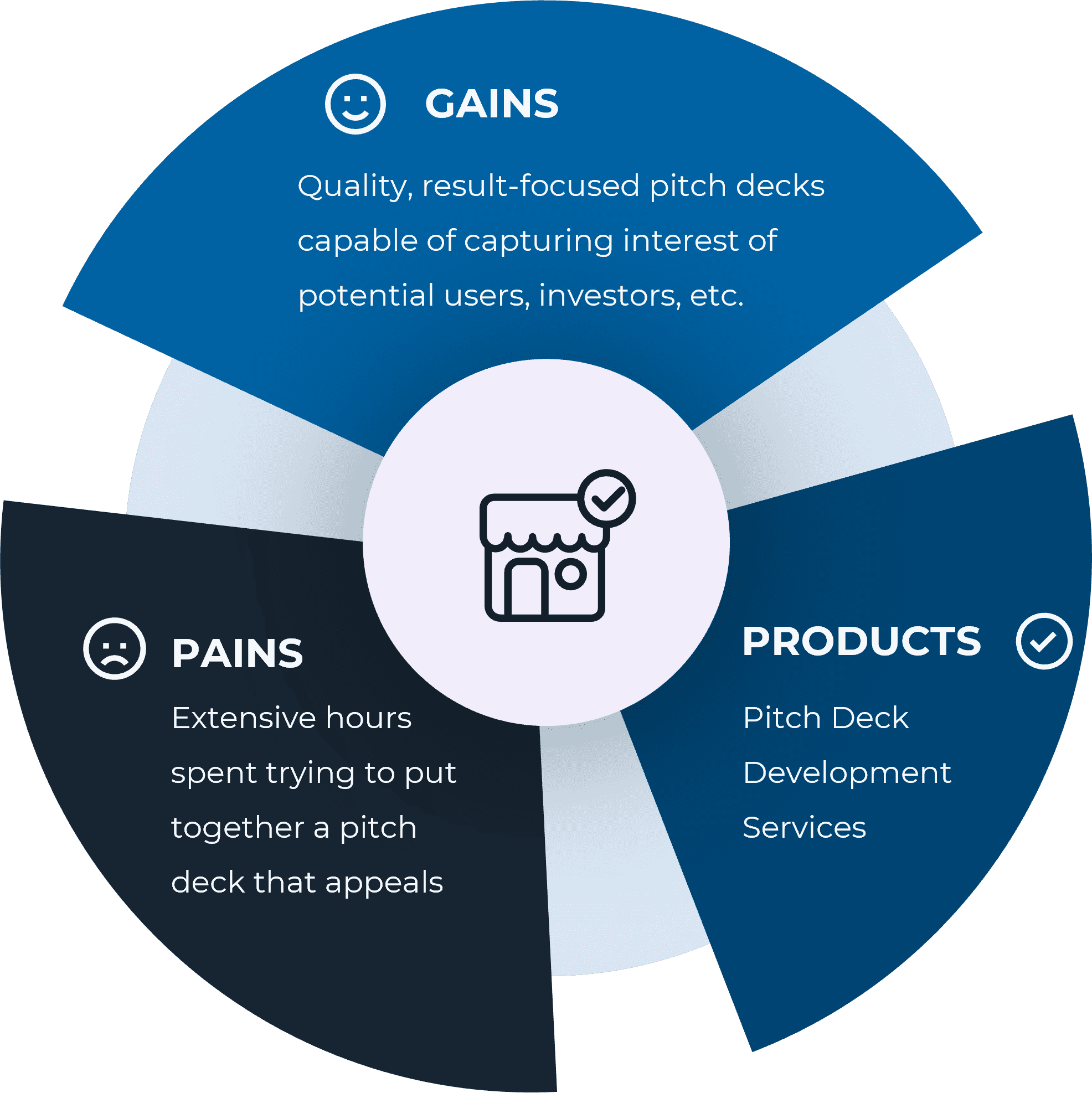 The Competition SWOT Analysis
Strengths
Weaknesses
Opportunities
Threats
QAT Global
Creative Services
• Experienced content writers
• Dedicated design team
• Craft appealing pitch decks  quickly
• Requires time commitment for
meetings and collaboration
• Get Capital Commitments Faster
• Long-term partnership
• Outshine Competitors
• Client lack of experience working
with remote teams
In-house
Development
• Full control
• Direct communication
• Bandwidth
• Lack of design skill
• Inexperienced staff
• Organizational learning
• Miss or extend deadlines
• Fail to appeal to
decision makers